From statement furniture to floral touch, here are the five ways all the newlyweds
can set their homes a class apart!
You've just moved into a new house, right? The lovely wedding is finished, and a new chapter of your life begins, bringing you a lot of joy and happiness. Today's topic is how to design your home after the wedding. Sail towards a life of love and respect with your mate! If you've never lived together before, this is a great time to design your house jointly so that you're both participating in the process. If you've been living together for a while, now is the time to add a little romance to the rooms in the house and start making memories that will last a lifetime. Your house will reflect your particular taste and inspire you to strike a balance. When decorating a home, keep the utility and beauty of the room in mind, but don't overlook the romantic elements. We've compiled a list of the greatest home design ideas for newlyweds.
The postponing of weddings has impacted us all hard over the last 12 months, since we have been living through a pandemic. It's a strange one because we want to get back to doing what we love while also ensuring everyone's safety. We've definitely been kept on our toes with situations changing all the time. Newlyweds should design their house so that they feel at ease and at home. Your house should be transformed into a haven of serenity, love, and life balance. It is preferable to make common plans and live fulfilled in such a situation. 
No matter how tough it is for you to renovate or design your home, you should enjoy it because it is a vital activity for both you and your partner.
Make It Cosy And Warm
A newlywed couple's home is supposed to be all romantic and cosy. To make your drawing room ambience uber cosy, add extra cushions and rugs. You can also add bright coloured pillows of different shapes so as to add to the vibe of your living space. As a newlywed couple you would want your home to feel very comfortable and homely. In fact, you'd also want your home to feel romantic. To enliven the look of your drawing room, you can experiment with different combinations of pillow cases and rugs. Don't shy away from opting for brighter colours. It will only work to make your living room super vibrant.
That Floral Touch
Having floral touch at your home is an absolute must as a newlywed couple. The floral touch adds more vibrance and romance to your home. In fact, romance will bloom as you add the floral vibe to your new home. From floral bedsheets to floral pillow covers, your room will look uber chic if you happen to add this element in your home. Guests will flock to your home if you happen to be a newlywed, leave your wedding guest impressed by your tasteful choice adding that floral touch to your abode.
Statement Furniture
Well, there is supposed to be at least one statement piece of furniture in your house. Either a cosy sofa or a super fancy center table, a statement furniture is sure to elevate the look of your house. Choose furniture that pops out and is not too subtle if you wish to go the bold way.
Don't be afraid to pick the trendiest design of them all. In fact, you can also opt for statement furniture that reflects a bit of your personality. You can add quirky and funky pieces if that resonates with your personality but simply make sure that you don't add too much of it such that it crowds the room. 
Don't Miss: Handling A Long Distance Relationship? These Tips To Make Your Life Easier
Wallpaper And Photo Frames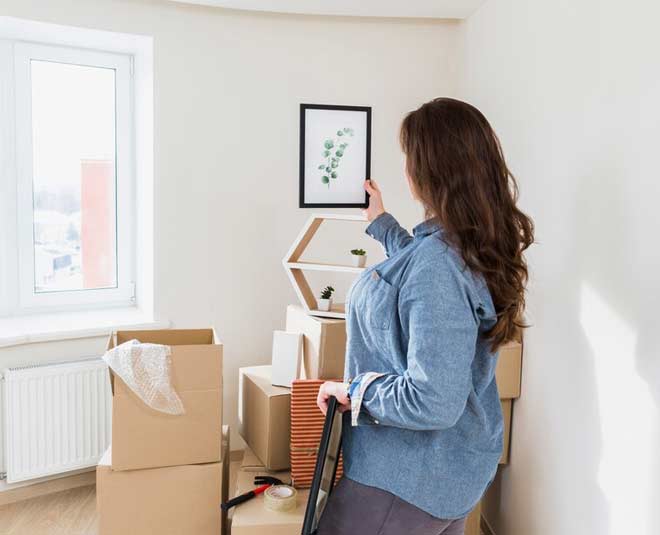 Keep a wall full of photo frames. For photo frames, you can opt for your own adorable photographs or opt for motivational quotes. Pick a theme for your wall every month and change frames according to that. To make it all the more romantic for you and your partner, you can put all the favourite memories of yourselves on the wall. To wake up to pictures of your partner and you will make your days filled with love and optimism. 
Don't Miss: 5 Habits That Make A Relationship Healthy
A Bit Of Mood Light Goes A Long Way
One cannot talk of romance and not mention the mood light. Mood lights are almost integral to romance. Adding mood lights to your home space will make your home super romantic. Your partner and you will not have to worry about getting into the mood if you have some mood lights into your home. In fact, just some scented candles and fairy lights can make all the difference. Mood lights go a long way in adding that romantic touch to your home. It instantly changes the vibe of your home in no time. 
If you wish to share any interesting home decor tips with us, do let us know by commenting on our Facebook and Instagram page. 
Stay tuned to HerZindagi to read more such stories!
Did you like this article ?